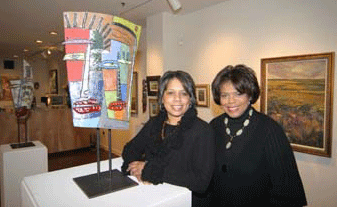 ArtJaz Gallery was established in 1999 in the historic district of Old City, Philadelphia. ArtJaz Gallery's mission is to provide a venue for exhibiting contemporary fine art by new and emerging Artists of African descent, while building a greater number of collectors through art education and awareness. ArtJaz Gallery, exhibits original paintings, mixed media, sculpture and fine art prints.
The name, "ArtJaz", was created because owners, Pamela Brown and Beverly Dawson believe that there is a keen connection between visual art and music, especially in reference to Jazz. Jazz, the original American music provides the improvisational thread between music and visual arts which conveys artistic freedom. ArtJaz Gallery represents Artists that challenge boundaries and provoke feeling and thought in their work.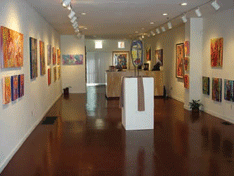 ArtJaz Gallery artists are recognized regionally and nationally for their talent and in 2002 Disney Films chose selected paintings to be included in the nationally released film "Snow Dogs."
ArtJaz Gallery strongly believes in participating in the community through various projects. Art and education are driving forces in our cultural Renaissance and legacy. For example, over the past eight years, ArtJaz Gallery has hosted and partnered with the Lutheran Settlement House in Philadelphia for," Listen Up: Young Artists Have Something to Say about Domestic Violence". The young artists' works are exhibited at the gallery providing an outlet to encourage their creative voice and talents. ArtJaz Gallery has also partnered with such organizations like the United Negro College Fund to promote the arts and aid in funding educational opportunities for our young adults who are the future of our country.
True to their name and connection with music and visual arts, in 2006, ArtJaz Gallery co-published with WD Productions, the book titled "Unveiled, The Photography of Will Downing and Fine Art by New and Emerging African American Artists". "Unveiled" showcases the photography of Grammy nominated R&B vocalist, Will Downing and seven visual gallery artists which includes paintings, sculpture and mixed media. "Unveiled" was created to provide another avenue for exposure of new and emerging artists to collectors across the country. Also, in 2006 fine art appraisal services were added to ArtJaz Gallery offerings.
ArtJaz Gallery is committed to assisting collectors and art enthusiasts alike in starting their fine art collections or expanding their collection. For owners, Pamela Brown and Beverly Dawson, representing Artists and Art is a passion. Prior to opening ArtJaz Gallery, both worked in regional and national sales and sales management for Healthcare Giant, Johnson and Johnson for 15 years before deciding to open a Contemporary Fine Art Gallery in Philadelphia. For many years prior to their careers with Johnson and Johnson and not known to each other, both had entrepreneurial endeavors in art during the early 1980's. Utilizing management and life skills learned on the job they are now embarking upon their ninth year in the business of art.
Future plans for ArtJaz Gallery include: expansion of website educational vehicles, educational seminars on Collecting Art, Fine Art Appraisals and publication of a bi-yearly newsletter.
ArtJaz Gallery is also available for receptions, seminars, fundraisers, etc. Please contact us about availability. Consult services offered for corporate and home art needs.
"Please join us on a journey of creating heirlooms and cultural legacy through collecting fine art".
ArtJaz Gallery
53 N. 2nd Street
Philadelphia, PA 19106
tel 215.922.4800
fax 215.922.7212
email
info@artjaz.com